About Us
---
Welcome to our website - for the latest information please take a look at our news page and look around the site at the other pages to find out more about the club.
We are the resident Club based at Victoria Park in Royal Leamington Spa, the home of English Bowls and the location chosen to host the 2022 Commonwealth Games. We also host the annual Bowls England National Championships held in August. The five greens in Victoria Park are used for County competitions, National events and also for International matches and competitions.
Our club welcomes players of all ages from primary school age to centenarians, from all ethnic and cultural backgrounds and of all bowling abilities. It's a great sport for all the family and a good place to meet people and make new friends. Lawn Bowls can be played by people who have a physical or visual disability, also by those with learning difficulties - in fact by almost anybody!
If you have never bowled before we can help you to learn to play this wonderful sport. Just come along and see what's going on or call me if you are interested in giving the sport a try. It doesn't cost anything to have a go and in 2022 we are offering a reduced first year membership fee of £35 for the outdoor season and it's free for those under 18 or under 21 and in full time education. Have a look at our membership page where you can apply online for membership.
We are a sociable, friendly club with excellent playing facilities, clubhouse and bar and look forward to welcoming you and getting to know you.
David Wigman - Chairman
01926 744916 / 07787228545 or email: dgw.rlsbc@virginmedia.com
---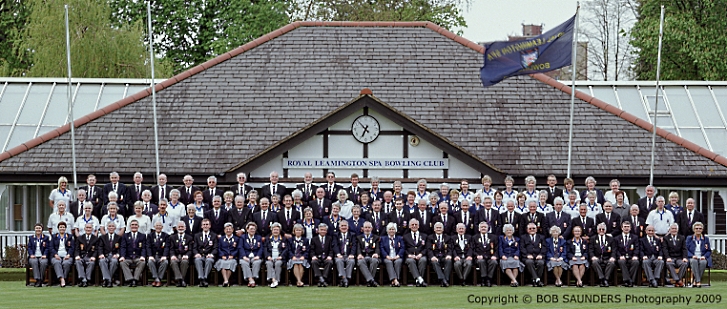 Royal Leamington Spa Bowling Club (RLSBC) has had a club house on the Archery Road site since 1913. The existing clubhouse was rebuilt in 1995 in readiness for Leamington Spa hosting the Women's World Bowls Championships in 1996.
The centre portion, as shown in the above Club photo, was modelled on the previous clubhouse and now contains the bar area and kitchen. The addition of a dining hall to the left and men's and ladies' changing rooms to the right completes the current facilities.
Originally, there was a single bowling green on the current site. A second green was added 10 years later, then a third, and finally, with the arrival of the EWBA National Championships, a fourth bowling green. In 1995, a fifth bowling green was added in readiness for the Women's World Bowls tournament.
Victoria Park is still the home of the Bowls England Ladies National Championships and since 2014 has also become the home of Bowls England Men's National Championships. It is now known as the home of English Bowls and has hosted a number of England and other International matches as well as Bowls England Trials.
RLSBC regularly hosts Warwickshire County matches and competitions and a number of other organisations, such as VIBE (Visually Impaired Bowls England) and the Civil Service, also hold their competitions at the Club.
In 2022 the Bowling and Para-bowling for the Commonwealth Games will be played here.
RLSBC runs a wide selection of club competitions and a full season of friendly fixtures against other local clubs, the men generally playing on Saturday afternoons and the ladies generally mid-week. The Club enters three men's teams in a local mid-week afternoon league with the ladies also entering three teams in a mid-week evening league. Tuesday evening is Club Night which takes the form of a mixed triples league, before everyone retires to the well appointed and stocked bar.
During winter months the club holds two sessions of short mat bowls each week in the Clubhouse. RLSBC has four teams in the South Warwickshire Short Mat league, and also plays friendlies against other clubs.
During the year, the club also organises a number of well-attended social events, such as quiz nights, 1960s evenings, race nights, etc.